Learn how you can verify your publisher page, this will enable you to edit it, get stats about your content, and withdraw your tokens earned.
1) Enter the menu on the top right corner and click "Verify publisher".
2) Choose the domain you want to verify by typing the domain name in the input field, which would return matching publishers, then pick your publisher.
Please note that you can only verify publishers that are already on PUBLC. If your website is not yet on PUBLC then just simply add at least one content item (a URL) from your domain. This will then create a new publisher page for your domain.
3) Add your personal information such as name, company, position, and official email. If you are an independent content creator and not part of a company then just add yourself.
4) Read the Terms of Use and check the box to agree to it. You'll also need to confirm you are an official representative of the publisher you want to verify.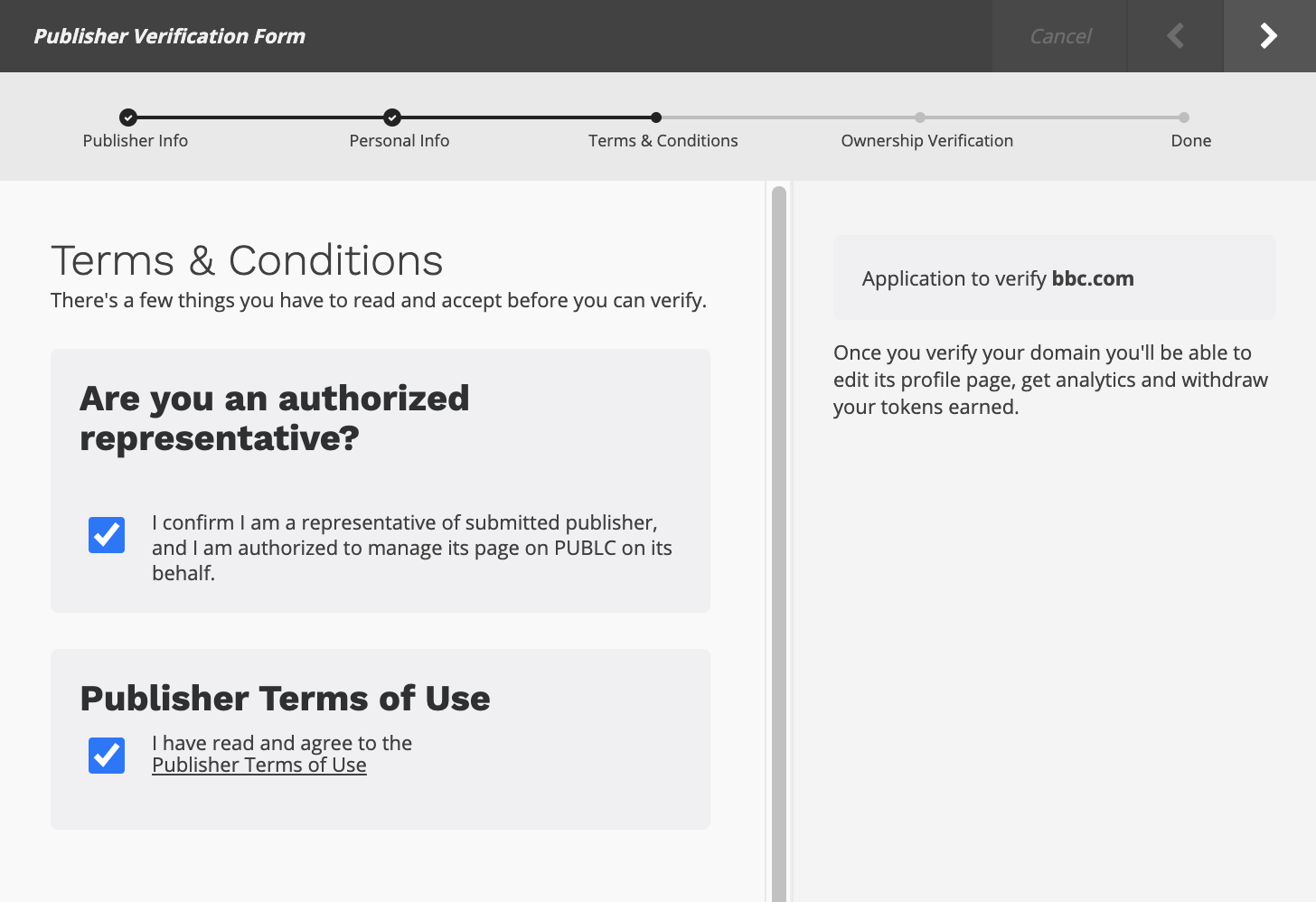 5) Now is the more technical part needed to confirm you are indeed the owner of the publisher. There are two methods of doing this - adding a HTML tag, or adding a DNS record. In both options you'd get a unique combination of letters and numbers which you will need to add to either HTML or DNS records.
Please make sure you add this to the <head> section of your website code and not that of the <header>. See example below.
Once you have added it, PUBLC will check your HTML or DNS records to see the combination saved there is identical to the one we gave you. By matching them it proves to us that you are indeed the owner, as you have access to those resources.‌
❗️Important: Only click on 'Done' after you, or someone on your team has added the tag to the website. If you cannot add it immediately, just copy the tag, share it with the team member who will add it to the website and close the window. Once the tag is added, you can come back and continue the process.
6) Once you're finished, just click the blue checkmark on the right corner and you're done!
*Note that adding new DNS records might take up to 24 hours to be added (depending on your DNS provider). So in case it was still not added yet, just come back later.
7) Now that you're an admin of your publisher you can do some cool stuff such as editing your page, getting content stats, and withdrawing your tokens earned.