PUBLC strives to provide cost-free token transactions for our users, which is why there is no additional charge from PUBLC for storing your tokens on the platform or upon withdrawing them. However, the transaction costs to withdraw tokens to external crypto wallets (for instance your unique MetaMask wallet) incur a "transaction fee" that is paid to miners and validators of the Ethereum Blockchain, not PUBLC. In turn, those miners and validators are responsible for transaction processing and securing the Ethereum blockchain network.
PUBLC must pay these fees to the network in order for those transactions to be processed. Therefore, PUBLC will be updating the withdrawal process to reflect the industry standards where the transaction fee will be passed onto the user upon withdrawal.
In order to ease the effort for the user, PUBLC will simply deduct the transaction fee from the total PUBLX balance. PUBLC discloses the fees at all times and our users can check the current fee anytime by opening their dashboards or at the time of the withdrawal request.
Dashboard View: (currently in development)
Withdrawal Request (currently in development)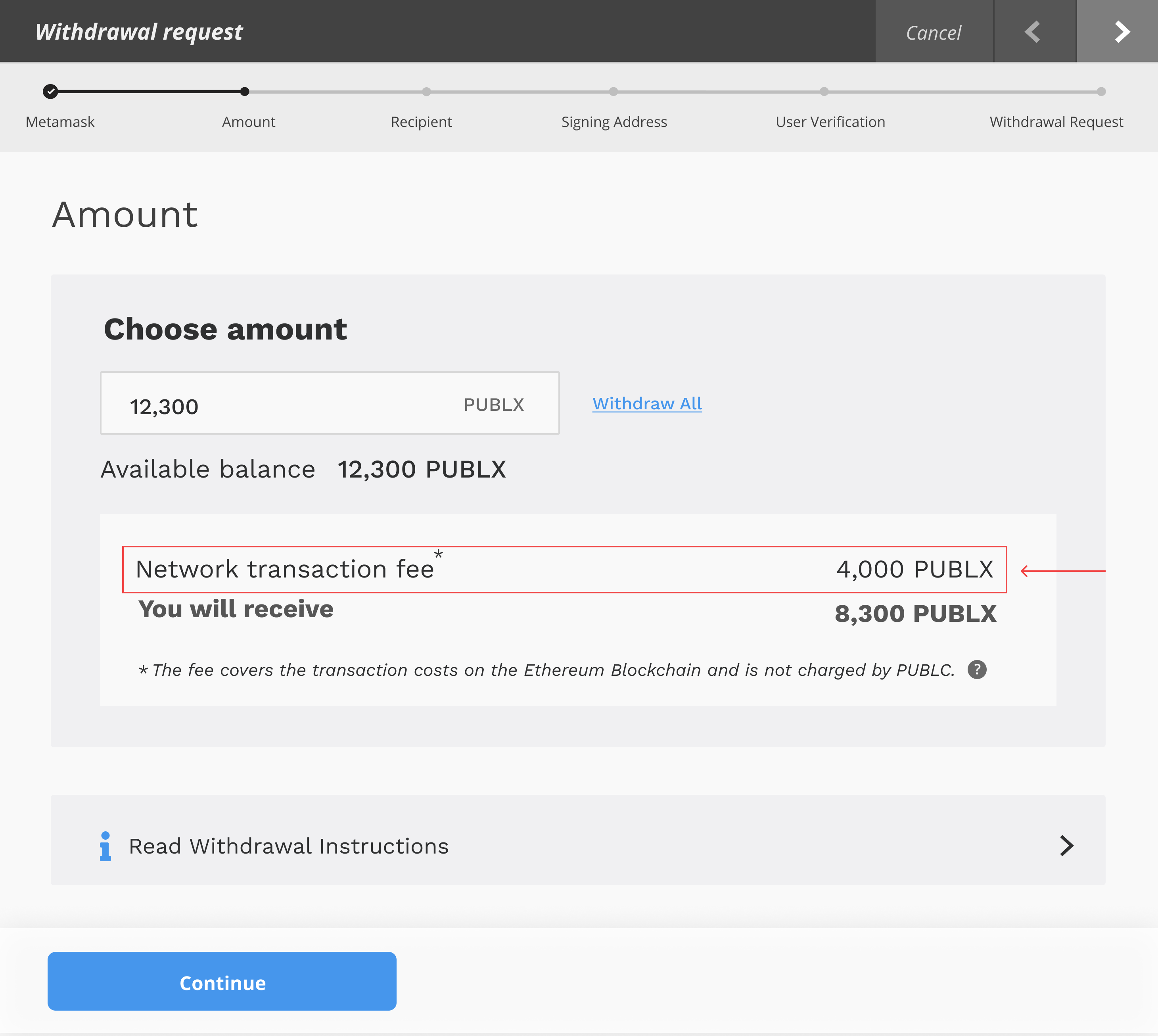 Importantly, these network fees are dynamic, which means that they can change without notice, and they are determined by miners and validators according to the current network conditions of the Ethereum Blockchain. In rare circumstances of extreme market conditions, PUBLC reserves the right to delay processing any transaction if the market price of the transaction significantly differs from the original estimate.
Minimum amount requirement
The minimum amount required for each withdrawal is the amount that covers the current network fee. If your total balance is less than the current network fee, you will not be able to request a withdrawal.